London share prices register small rise in morning trading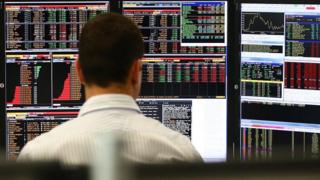 (Close) London share prices rose slightly with the FTSE 100 share index up by just 36.23 at 6,843.13 points.
Shares in Associated British Foods (ABF) rose by 6% after annual results that were better than expected.
Income went up 5% to £13.4bn and pre-tax profits rose 5% to to £1.1bn. The firm said it expected to benefit from Britain's vote to leave the EU.
Shares in Marks and Spencer opened higher but fell back 5%.
The retailer announced plans to cut store numbers both at home and abroad.
M&S is closing 30 UK clothing outlets, converting dozens more into food-only stores, and shutting 53 international stores in 10 overseas markets.
The retailer also reported a sharp drop in half-year profits and a fall in underlying sales at both its clothing and food businesses.
"Closing the foreign stores makes sense as M&S never quite understood its customers outside the UK," said Neil Wilson at ETX Capital.
"[Chief executive Steve] Rowe wants to focus on Mrs M&S, the retailer's core customer, and this means doing its own version of Brexit by focusing solely on the UK market."
Shares in Imperial Brands fell 3% despite the cigarette maker reporting a near 10% rise in full-year revenues and a 10% increase in adjusted operating profit.
On the currency markets, the pound was down 0.2% against the dollar at $1.237, and was slightly lower against the euro at €1.1213.