FTSE 100 boosted by HSBC and some mining stocks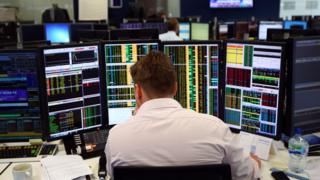 The UK's main share index jumped 1.7% as markets reacted to the latest news from the US election.
At the close, the FTSE 100 was up 113.64 at 6,806.90, tracking gains seen elsewhere in Europe and Asia.
Shares, commodity prices and the dollar rose after the FBI exonerated Democrat candidate Hillary Clinton of criminal conduct on her emails.
Banking giant HSBC and some mining companies saw some of the biggest rises in the FTSE 100.
'Hint of complacency'
Following the FBI's decision, "markets are back in full risk-on mode", said Neil Wilson at ETX Capital.
However, he added: "Markets are effectively saying this latest email investigation never happened - as you were folks. Voters may be inclined to think differently and there is a hint of complacency in this recovery."
HSBC was one of the biggest risers in the FTSE 100, up nearly 5%, after the bank reported its third-quarter results.
Pre-tax profits at the bank fell sharply due to a host of one-off charges, but adjusted profits rose 7% to a better-than-expected $5.6bn.
Major mining companies also bolstered the FTSE as they reacted to rising commodity prices. Antofagasta rose 6%, while Glencore, Anglo American and BHP Billiton gained around 5%.
Fresnillo and Randgold, though, fell.
But shares in Tesco fell 1.4% after the retail giant said money had been taken from 20,000 Tesco Bank customers.
About 40,000 accounts saw suspicious transactions over the weekend, Tesco said, and the bank has suspended all online transactions.
On the currency markets, the pound fell sharply against the dollar, with the dollar strengthening against most currencies in reaction to the US election news.
Sterling was down 1% against the dollar, at $1.2393, but was flat against the euro at €1.1237.