Wall Street close down as election nerves persist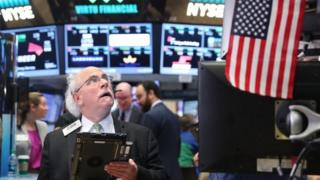 The S&P 500 index recorded its longest losing streak in 35 years on Friday as US stocks closed down amid investor jitters ahead of next week's election.
The S&P closed 0.16% lower at 2,085.22, marking the ninth day of losses and its worst run since December 1980.
Markets in the US, Asia and Europe have fallen as polls showed the gap between Donald Trump and Hillary Clinton narrowing.
The Dow Jones industrial average fell 0.23% to 17,888,
While the tech-heavy Nasdaq dropped 0.24% to 5,046.37.
Stocks were largely unmoved by new jobs data which showed that US businesses added 161,000 jobs in October, slightly below forecasts. The unemployment rate dropped to 4.9% from 5%.