Morrisons sales helped by 'biggest ever' Halloween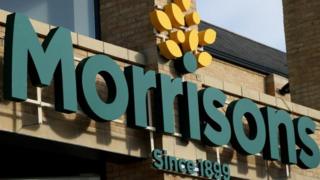 The UK's fourth largest supermarket chain, Morrisons, has reported another rise in sales, helped by its "biggest ever" Halloween.
The Bradford-based group said like-for-like sales - which exclude the impact of store openings and closures - rose 1.6% in the three months to 30 October.
That was the fourth quarter in a row that sales have risen, as the supermarket's turnaround continues.
Morrisons said its Halloween sales were up 20% compared with last year.
It added it was making more effort to focus on key seasons and events during the year, such as Halloween.
Although like-for-like sales rose, because Morrisons is undertaking a programme of store closures - as part of its plans to revive the business - its actual sales for the whole chain fell 1.2%.
The major supermarkets have been competing fiercely on price as they seek to gain market share and fend off the impact of discount chains such as Aldi and Lidl.
Morrisons said its prices in the quarter were 1% lower than a year earlier.
Morrisons was most recently in the news for being the first among the supermarkets to raise the cost of a jar of Marmite since the dispute between Tesco and manufacturer Unilever over the effect of the falling pound on production costs.
"Morrisons is doing well considering the market environment," said Neil Wilson, markets analyst, at ETX.
"With the Unilever-Tesco spat fresh in the memory, Morrisons has got to be careful with how it handles the weaker pound as margins compress further, although overall it's better placed than most as it sources more from the UK."