Nike shares weigh on Dow Jones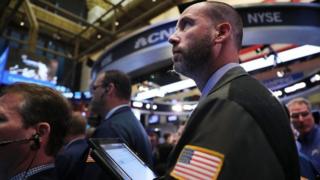 (Close): US markets ended the day more or less where they started, but shares in Nike fell more than 3% following a broker downgrade.
Nike shares were hit after Bank of America Merrill Lynch cut its rating on the stock to "underperform" from "neutral".
The Dow Jones ended 18.77 points lower at 18,142.42.
The wider S&P 500 index slipped 0.26 points to 2,126.15, while the Nasdaq fell 0.97 points to 5,189.13.
Shares in industrial giant General Electric fell 0.4% to $29.10 after the company agreed to merge its oil and gas business with oilfield services firm Baker Hughes.
The deal, which has been approved by the boards of both companies, will create the second-biggest firm in the oilfield services industry.
Shares in Level 3 Communications jumped 3.9% after CenturyLink announced it was buying the company in a $34bn deal. Shares in CenturyLink dropped 12.5%.