Tata shares fall after ex-boss warning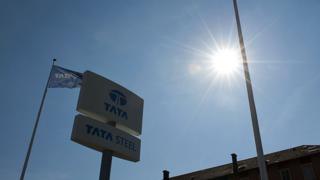 Shares in several Tata firms have fallen, a day after ousted chairman Cyrus Mistry warned the group risked up to $18bn (£14.7bn) of writedowns.
Tata Motors - producer of the loss-making Nano model - fell 2% while Tata Steel was 1% lower.
The Tata Group said it currently had no comment on Mr Mistry's comments, made in a leaked email.
But one of its businesses, Tata Steel, said its financial statements were "a true and fair value of the company".
Tata Sons, the holding company of Tata Group, unexpectedly replaced Mr Mistry with his predecessor Ratan Tata on Monday, giving no explanation or details about its decision.
Take our Mistry Mystery quiz: What did Cyrus say?
Karishma Vaswani: It's the stuff Bollywood blockbusters are made of
Undermined
But Mr Mistry bit back with an electrifying five page email to the Tata board, seen by the BBC.
In it he claims his chairmanship had been undermined and that he'd been pressurised into doing deals he felt uncomfortable about.
He also highlighted what he said were major risks at some of Tata's biggest businesses - and criticised an unwillingness to sell off or shut down operations that were doing badly.
Mr Mistry had been hand-picked as a successor to Ratan Tata as the second chairman from outside the Tata family and with high hopes that he would be the right man to steer the company.
He was the sixth chairman in Tata's 148-year history and the first chairman in nearly 80 years to come from outside the Tata family.