Wall Street gains but Time Warner falls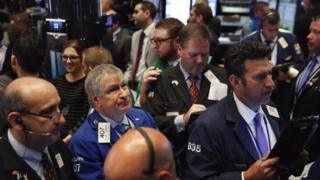 Wall Street's main indexes all rose on Monday, as the markets had their first chance to react to the news that AT&T was to buy Time Warner.
However, Time Warner itself, which had risen more than 8% amid reports of the deal on Friday, fell by 3% to close at $86.74.
AT&T closed down by nearly 1.7%.
The Dow Jones rose 0.43% to 18,222.89, while the S&P 500 added 0.47% to 2,151.31 and the hi-tech Nasdaq gained 1% to 5,309.83.