Wall Street closes little changed after Microsoft rallies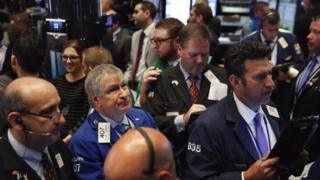 (Close): The S&P 500 and the Dow were little changed, and the Nasdaq edged ahead, as a record day for Microsoft and earnings from McDonald's offset a fall in energy and healthcare shares.
General Electric weighed on the market as the group cut its full-year revenue target to send shares down 0.9%.
Microsoft added 4.3% to a record close of $59.69. McDonald's rose 3%.
The Dow Jones fell 0.09% to 18,145.7, the S&P 500 lost 0.01% to 2,141.1, and the Nasdaq added 0.3% to 5,257.4.
Phone companies were the biggest drag on the market following reports that AT&T was considering a deal to acquire the media conglomerate Time Warner. AT&T, Verizon, Sprint and T-Mobile US all fell.
Time Warner advanced more than 8%.
Healthcare and energy stocks also took some losses, while consumer staples and technology companies held on to slight gains.
Investors continued to focus on corporate America, reviewing earnings from some other big companies in addition to General Electric and McDonald's. Earnings from banks and other financial companies have been mostly better than anticipated, which has helped boost that sector.
"We're seeing a lot better earnings come out of the financial sector in particular, and some good earnings come out of technology,'' said David Schiegoleit, managing director of investments at the Private Client Reserve, at U.S. Bank.
"That is reflected in some of the sector performance, but when you look at the market overall we're still being weighed down by energy," he said.