Lower iPhone sales hit Laird profits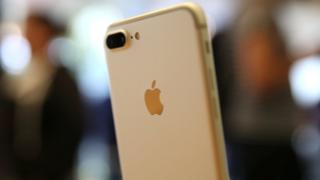 Lower iPhone sales have hit profits at smartphone component maker Laird, sending shares tumbling close to 50%.
The FTSE 250 company, whose biggest customers include Apple, said it had suffered muted demand for its products in the three months to 30 September.
That led to a "very challenging trading performance" in the quarter and forced Laird to lower annual profit guidance to about £50m.
Analysts had expected the company to post pre-tax profits of £67m to £80m.
It made profits of £73.1m for the year to December 2015.
The profit warning sent shares crashing to close 146.3p lower at 162.1p in London.
'Very disappointed'
Laird said production growth for mobile devices this year had fallen, making it difficult to predict demand.
Tony Quinlan, chief executive, said: "We are very disappointed by these adverse developments in the mobile devices market for our Performance Materials division, at a time when other parts of the business continue to perform well."
He said measures the company had taken would improve its performance next year and beyond.
Apple said in July that it sold 40.4 million iPhones in the third quarter - 15% lower than the same period last year - ahead of the release of the new iPhone 7.
Laird also supplies components for Samsung, which last week abandoned its top-of-the-range Galaxy Note 7 smartphone following a spate of battery fires less than two months after its launch.
The problems mark a difficult start for Mr Quinlan, the former chief financial officer who took over as chief executive in early September after David Lockwood left to join Cobham.
In July Laird said underlying pre-tax profit for the first half tumbled 39% to £16.4m.
The company dates back to 1824, when it was founded by John Laird as Birkenhead Ironworks in Liverpool. Its shipbuilding business was nationalised in 1977 and the firm moved into security products in the 1980s, followed by electronics the following decade.