Barratt executive arrested after internal misconduct inquiry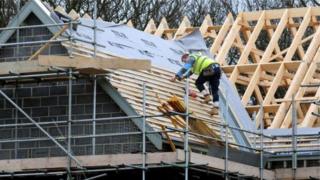 Barratt Developments' regional managing director for London has been arrested after an investigation into "possible misconduct".
The homebuilder said Alastair Baird and another former Barratt employee were arrested on Wednesday morning.
Mr Baird has also been suspended from his job, Barratt said.
It follows an internal investigation into the process of awarding and managing "material and sub-contract supply contracts" in London.
The company, which is Britain's biggest residential developer, said it had referred the case to the Metropolitan Police in April this year.
The investigation also led to civil legal action against an employee who was dismissed in February 2016.
Barratt chief executive David Thomas said the company was "committed to meeting the highest ethical standards".
"We have acted decisively, launching our own thorough and comprehensive investigation and referring the matter to the Metropolitan Police," he said.
Barratt said it had reviewed its tendering and procurement processes and "adopted additional controls".
The firm, which reported a 21% profit rise in the year to June, said it did not expect any "adverse financial effect" following the arrests.
Gary Ennis, regional managing director for the southern region, will take interim responsibility for the London region, Barratt said.