Wall Street buoyed by technology shares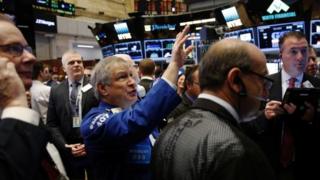 (Close): Tech stocks led Wall Street higher after Netflix surged on strong subscriber data and Google parent Alphabet hit an all-time high as its new Pixel phone received good reviews.
Netflix was a stand-out gainer, soaring 19% after reporting 3.57 million new subscribers for the third quarter.
The tech-rich Nasdaq jumped 0.9% to 5,243.84, with Alphabet and Tesla Motors both adding about 2%.
The Dow Jones rose 0.4% to 18,161.9, and the S&P 500 rose 0.6% to 2,139.6.
United Health was the biggest gainer in the Dow, climbing 7.1% after reporting that third-quarter earnings jumped 23.2% to $2bn, due in part to a strong performance in its Optum consulting and data analysis business.
Other health insurers also moved higher, with Aetna adding 2.6% and Cigna 4.2%.
Goldman Sachs climbed 2.2% as it reported a 58% jump in third-quarter earnings to $2.1bn due in part to a strong performance in its trading division.