Tesco sees first market share rise since 2011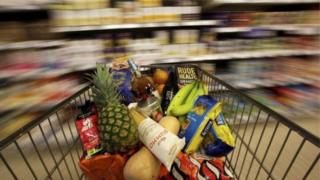 Tesco has increased its share of the UK grocery market for the first time since 2011, figures show, highlighting the ongoing recovery of Britain's biggest supermarket.
According to Kantar Worldpanel, sales grew 1.3% year-on-year in the 12 weeks to 9 October.
That left Tesco with 28.2% of the UK grocery market, up from 28.1% a year earlier.
In the 12 week period, sales fell 0.4% at Sainsbury's and 5.2% at Asda.
Tesco has been struggling with stiff competition from discount retailers and reputational damage from a 2014 accounting scandal.
It reported a record loss last year, but earlier in October said that sales were continuing to recover as it won back shoppers.
Fraser McKevitt, head of retail and consumer insight at Kantar Worldpanel, said growth was being driven by "family shoppers [and] improved trading from its larger supermarket and Extra stores".
"Foods including ready meals and produce have been among the fastest growing areas at Tesco, helped by its 'Farm Brands' but also its standard own label lines," he added.
Deflation continues
According to Kantar, sales in the UK grocery market in the 12-week period were 0.8% higher than a year ago.
Iceland, Co-op and Waitrose won an increased share of the market.
The discount chains Aldi and Lidl also did well, with their sales jumping 11.4% and 8.4% respectively.
Despite recent concerns about supermarket inflation, Kantar said grocery price deflation had continued in the period, "albeit at a slower rate".
"The price of everyday groceries fell by 0.8% compared with a year ago and in contrast to the -1.1% reported [for the preceding 12 weeks]," Mr McKevitt said.
The drop in prices had been "particularly noticeable among pork, crisps and poultry products", he said.
Food prices were the backdrop to last week's spat between Tesco and manufacturer Unilever, after the latter tried to raise its wholesale prices by about 10% to compensate for higher costs due to the recent fall in the value of the pound.
In response, Tesco pulled popular brands from its website including Hellmann's Mayonnaise and Marmite, but the pair soon ended the row after reaching a compromise.