VW sales lifted by strong deliveries in China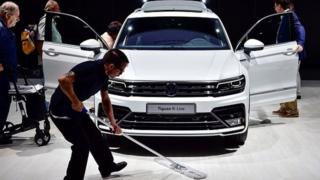 Sales at Volkswagen have shown signs of recovering from the emissions crisis as it reported strong September deliveries, thanks mainly to China.
Overall, the group saw a 7.1% increase in deliveries last month, to 947,600 vehicles worldwide.
Of those, 382,300 went to China, a 20.1% rise on the previous year. But deliveries in the US fell by 3.2%.
"The increased deliveries make us optimistic we will be able to master the upcoming challenges," VW said.
"Reinforcing our customers' trust in our products remains our top priority," said Fred Kappler, VW's head of group sales.
The latest figures mean than between January and September, 7.6 million vehicles were handed over to customers, a rise of 2.4% compared with 2015.
Last year, the German carmaker was discovered to have been installing some of its cars with software that distorted emission tests. It later admitted that 11 million were affected.
The company highlighted Brazil as a weak spot, describing the situation there as "tense", with the South American market seeing a 41% decline in September deliveries. Brazil is in the throws of a large-scale corruption scandal, which has seen its president, Dilma Rouseff, impeached and removed from office.
A separate report from the European carmakers' association, ACEA, said that European car sales grew by 7% last month to 1.45 million, the highest September total on record.