US shares mixed after Fed minutes out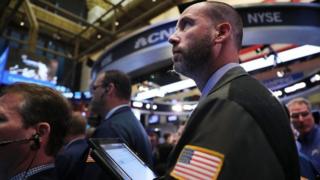 (Close): Stocks on Wall Street were mixed at the close on Wednesday after the release of minutes from the Federal Reserve's September meeting.
The US central bank kept interest rates on hold last month, but the minutes revealed that it was a close call.
They lend further weight to expectations of an interest rate rise by the end of the year.
The Dow Jones and S&P 500 closed slightly higher, but the tech-heavy Nasdaq dropped a little.
The Dow Jones Industrial Average ended the day 15.54 points higher at 18,144.20.
The wider S&P 500 index gained 2.44 points to 2,136.73, while the Nasdaq slipped 7.77 points to 5,239.02.
Shares in Apple climbed a further 0.9%. Apple's shares have risen in the past few days on the expectation that iPhone sales will benefit from the problems at Samsung, which has cancelled production of its Galaxy Note 7 after a number of battery fires.