Pure Gym abandons share sale amid market volatility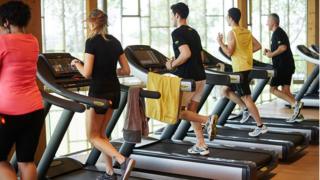 The UK's biggest gym operator, Pure Gym, has abandoned a plan to sell shares on the stock exchange.
The decision comes less than a month after the company announced its stock market debut, designed to raise £190m.
Pure Gym blamed "challenging" conditions in the market for shares in newly-listed companies.
The firm said it had received "strong interest" from potential investors, but decided that listing would not be in its long-term interest.
When companies sell shares for the first time on the stock market it is known as an initial public offering (IPO).
"Given the challenging IPO market conditions, the board has decided not to proceed with a listing despite the strong interest shown by potential investors," said Humphrey Cobbold, chief executive officer of Pure Gym.
Pure Gym, launched in 2008, has built up a chain of 163 gyms.
Its facilities are open 24 hours a day, have minimal staffing and do not lock customers into 12-month contracts.
Flagging market
The market for IPOs in Europe has been struggling recently.
Denmark's Nets was one of the biggest European share sales of the year, but shares in the electronic payments firm have fallen 10% since their listing in September.
Last month, Spain's Telefonica cancelled the sale of its infrastructure unit, which owns mobile phone towers and undersea fibre optic cables.
In the UK, Hollywood Bowl sold shares for the first time in September, since then they have risen a modest 5%.