Wall Street stocks open higher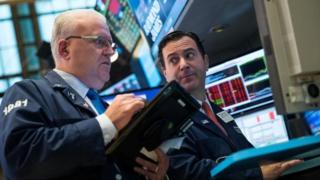 (Open): Stocks on Wall Street rose in early trade, recovering some of the losses seen in the previous session.
The Dow Jones Industrial Average opened up 32.32 points, or 0.2%, at 18,286.17, with Home Depot, McDonald's and American Express among the top risers.
The broader-based S&P 500 index edged up 2.30 points to 2,163.50, while the Nasdaq rose 15.42 points to 5,316.29.
Shares in restaurant chain operator Darden rose 2.6% after it reported higher first-quarter sales.
The company - which owns the Olive Garden chain - also approved a share buyback programme of up to $500m.
US-listed shares in Deutsche Bank - which have come under pressure in recent days over worries about the bank's financial position - rebounded 2%.