Deutsche Post agrees to buy UK Mail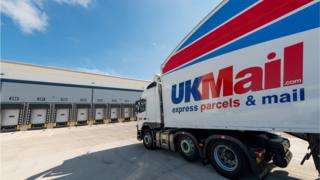 German postal firm Deutsche Post has agreed a deal to buy UK Mail for £242.7m, which will see it compete with Royal Mail for parcel deliveries.
The purchase is part of a European expansion drive by Deutsche Post.
"UK Mail is well-run and an established provider of quality delivery services in the UK. It offers a complementary fit with our integrated offering," said Deutsche board member Jurgen Gerdes.
UK Mail directors said it believed the deal was "fair and reasonable".
Under the terms of the deal, UK Mail shareholders will receive 440p a share.
Peter Kane, chairman of UK Mail, said: "The board believes that UK Mail will benefit significantly from becoming part of Deutsche Post DHL and will be better positioned to continue to develop our parcels and mail businesses.
"Our customers will have direct access to Deutsche Post DHL's integrated global parcel network and comprehensive logistics capabilities. We will have opportunities to win additional business from Deutsche Post DHL's existing customer base."
Following news of the deal, shares in UK Mail jumped by more than 40%.
UK Mail suffered technical problems last year at a new sorting centre which left it having to handle bulky parcels manually.
This led to higher costs which reduced its profits.
The parcel delivery company has a network of more than 50 sites across the UK and more than 25,000 customers.
It competes in a crowded marketplace which, despite the rise in online shopping, has had its problems.
Delivery firm City Link called in administrators on Christmas Eve 2014, with some of its work being picked up subsequently by UK Mail.