Postal Savings Bank shares make flat debut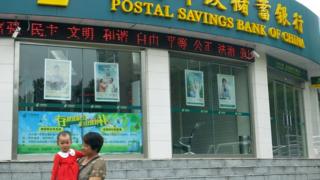 Shares in China's Postal Savings Bank opened little changed as they made their trading debut in Hong Kong.
The $7.4bn (£5.7bn) share sale is the world's biggest initial public offering (IPO) since Chinese internet giant Alibaba floated in New York in 2014.
PSBC is China's fifth largest lender and the last of the country's big banks to list its shares.
But its shares closed at 4.77 Hong Kong dollars on Wednesday, just above its IPO price of HK$4.76.
Analysts had expected a muted response because of the glut of Chinese bank stocks already in the market.
In addition, investors are cautious on the outlook for the Chinese banking industry, which is battling mounting bad debts in a slowing economy.
Retail demand for PSBC's stock was modest, with three-quarters of the offer pre-sold to "cornerstone" investors - mainly other Chinese state-owned companies..
Despite the flat debut for the shares, PSBC chairman Li Guohua described the launch as "successful" and an "important milestone" for the company.