Wall Street stock markets fall almost 1%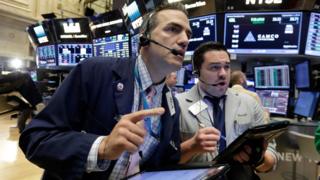 (Close): Wall Street markets closed down ahead of the much-anticipated first presidential debate between Hillary Clinton and Donald Trump.
A sharp fall in Deutsche Bank shares also weighed on financial stocks.
The Dow Jones sank 166 points, or 0.9%, to 18,094. The S&P 500 slid 18 points, or 0.9%, to 2,146, and the Nasdaq fell 48 points, or also 0.9%, to 5,257.
Twitter shares rose 3.3% after Disney became the latest company to be linked with a possible bid for the company.
The market is uneasy over the presidential debate said Peter Cardillo, chief economist at First Standard Financial.
"The market is beginning to realize that it may not be an easy win for Clinton," Mr Cardillo said. "Normally a Republican win would be positive for the stock market, but with Trump it may create a lot of uncertainties."
US-listed shares in Deutsche Bank fell 7% on reports the German government will not offer the bank state aid.
That hit other bank stocks. The S&P financial index fell 1.5%, with JPMorgan down 2.19% and Bank of America falling 2.77%.
Pfizer was one of the worst performing stocks on the Dow. The drugmaker's shares fell 1.8% after the company said it was not going to split itself into two listed companies.