US stock markets close lower after two-day rally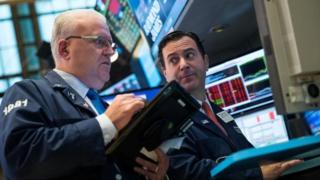 (Close): A two-day rally on Wall Street fizzled out with weak energy shares depressing the market.
But Twitter was the stand-out winner, jumping more than 20% on US media reports that a bid for the company was being lined up.
The benchmark US crude price fell sharply on Friday over fresh concerns that the oil market is being oversupplied.
West Texas Intermediate fell 3.4% to $44.73 cents a barrrel.
That weighed on energy shares, with Transocean, Devon Energy and Murphy Oil, all fell by more than 5% on the S&P 500.
Overall the Dow Jones closed 0.7% lower at 18,261, the S&P 500 lost 0.5% and the Nasdaq fell 0.6%.
"I just think after a few strong days and a little weakness in energy that folks are taking some profit before the weekend," said Gary Bradshaw, portfolio manager with Hodges Capital.
"I just feel like the market is going to keep grinding higher," he said.
Wall Street had been boosted earlier this week after the Federal Reserve's decided to keep interest rates on hold.
On Wednesday, the Fed kept rates unchanged, although it indicated rates could rise before the end of the year.