Setback for RBS in sale of 315 branches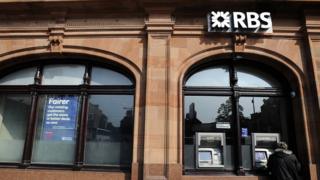 A plan by Royal Bank of Scotland to sell more than 300 branches is in trouble after one of the most promising bidders pulled out of talks.
The BBC understands that talks with Spain's Santander broke down because the two sides could not agree a price.
As part of its bailout in 2008, RBS was given until 2017 to sell the branches.
It attempted to use them to form a new bank under the Williams and Glyn brand but last month, in the face of rising costs, it abandoned that effort.
Since then, RBS has been looking for buyers for the 315 branches and their associated personal and business accounts, and Santander was seen as the front runner.
But the prospect of a further cut in UK interest rates has undermined that deal, as lower rates cut into the profits of High Street banks - making the RBS branches less attractive.
---
Analysis: Simon Jack, BBC business editor
Once again RBS is in a tough spot. It is legally required to sell 315 branches by the end of next year to satisfy EU rules on state aid after the tax payer funded a £45bn rescue in 2008.
This latest setback raises the spectre of a fire sale of assets still 73% owned by the government - which means us.
So what now? The BBC understands that Santander may still be interested but wants to radically reset the price point from the £1.6-1.9bn range previously bandied about.
There are other potential bidders out there - but not many. The company that owns Clydesdale and Yorkshire banks is thought to still be in the hunt. Another potential candidate - the TSB, offloaded by Lloyds under similar regulatory pressure - have up to now ruled themselves out.
There is an outside chance that a private buyer - like US based Corsair Capital - might buy the company with a view to selling in 5 years or so when the rain clouds on banking clear.
What does seem clear is that the price taxpayers will get for something they 73% own has taken another downward turn.
---
The sale also comes at a time when banks are reducing the size of their branch networks as more customers are banking online.
Last month RBS reported a $2bn loss for the first six months of the year, which it blamed on past issues, including the mis-selling of payment protection insurance.
It also said that it spent £345m attempting to form the Williams and Glyn unit.