US shares open higher before interest rate meetings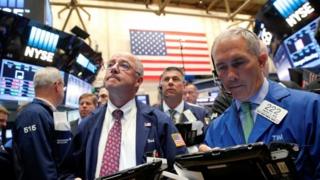 (Close): US shares closed with modest gains as investors awaited Wednesday's announcement on interest rates from the US Federal Reserve.
The Dow Jones Industrial Average ended 9 higher points at 18,129, the S&P 500 index closed little changed at 2,139. The Nasdaq rose 6 points to 5,241.
Exxon Mobil fell 1.5% after a report said US regulators are investigating how it values its oil reserves.
McDonald's was the biggest winner among the Dow Industrials with a 1% gain.
Investors are also watching the outcome of the Bank of Japan's meeting that started on Tuesday.
"Not many think the Fed is going to hike tomorrow, but whether they change the language to get a little more hawkish, there's been conversation around that," said Walter Todd, chief investment officer at Greenwood Capital.
"The Bank of Japan is a whole other issue unto itself... Given the level of uncertainty around those two meetings, I just think people are kind of biding their time," he said.
Oil prices fell to the lowest in nearly six weeks as concerns over a potential rise in US crude stocks, adding to swelling oversupply, outweighed Opec comments that a possible production freeze agreement could last longer than expected.
Brent Crude recovered some of its early losses, by the close of trading in New York it was down $0.10 a barrel at $45.85.