London bids to drum up US interest in its tech sector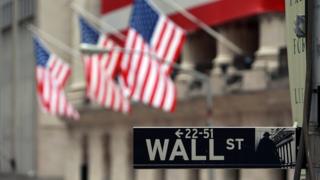 Here in New York the person on the street is only dimly aware that Brexit exists.
"There was a vote, right, and England won?" said one dog walker when I asked her about Britain and the European Union.
In the business community, however, Brexit is a hot topic.
Wall Street has a long-standing love affair with the Square Mile, and New York investors love the London tech community, and in particular its deep pool of (comparatively cheap) skilled labour.
Might all the flames be doused by the Brexit vote, and the uncertainty over the nature of the UK's future relationship with Europe?
'London is open'
Sadiq Khan, London's mayor, wants to keep the passion kindled. This week he is on a trade mission to North America, taking 30 tech companies with him to spread the word.
"London is open" was the title of the flagship event, an extended sales pitch-cum-networking event on Manhattan's Lower East Side - a choice of name that begs the question whether London might not, at some stage, be as open.
In the short term, however, it is business as usual.
Adam Neumann, the Bransonesque founder of WeWork, the co-working space that hosted the Manhattan event, is opening two more sites in London, taking the total to 14.
BounceX, a fast-growing software company that specialises in website marketing, plans to open offices creating 300 jobs.
Mr Neumann says that the short-term uncertainty, bizarrely is creating more opportunity for his company, with big companies reluctant to taking new headquarters and using his sites instead.
Brexit risk
Those at the event, however, were realistic enough to admit to a longer-term threat.
A hard Brexit that ended the free movement of labour would, they said, endanger London's status.
In an interview with the Today programme, Mr Khan conceded he had no control over national immigration policy, but was pushing the government to take London's future competitiveness into account when negotiating the exit deal.
---
On BBC News outlets this week, under the banner Tech Talent, we are asking whether the UK can compete in the global technology industry - and why the UK has not produced a tech giant on the scale of Google or Apple.
Rory Cellan-Jones: Has the UK got Tech Talent?
Tech start-up funding 'appallingly bad' in UK
Tech Talent: Map of the UK's digital clusters
---