Fed jitters and oil pull US stocks down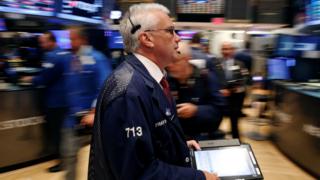 (Close) US fell as investors focused on future interest rate hikes and as cheaper oil dragged down energy shares.
The Dow Jones industrial average ended down 0.18% at 18,034.77 points and the S&P 500 gave up 0.06%, falling to 2,125.77.
The Nasdaq Composite added 0.36%, finishing at 5,173.77.
Monsanto gained 0.6% after it accepted a $66bn (£50bn) takeover offer from Bayer.
Falling crude oil prices hit shares in oil companies. West Texas Intermediate fell 1.2% to $43.69 per barrel. Chevron was among the biggest losers on the Dow, with a fall of 1%.
US shares have been volatile in the run-up to a meeting of interest rate policy makers at the US Federal Reserve on 20-21 September.
"The market is preparing for the worst, which is a rate hike in the US, and hoping for the best," said Andre Bakhos, managing director at Janlyn Capital.
"That mindset is causing back and forth swings in the past few days."