Sir Philip Green denies he tried to 'blackmail' Pensions Regulator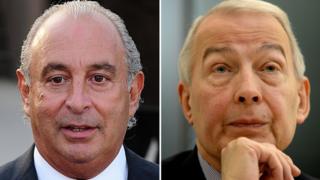 Sir Philip Green has hit back at suggestions that he is attempting to "blackmail" the Pensions Regulator over plugging the £571m BHS pension deficit.
The former owner of BHS, said it was "wholly untrue" that he had tried to pressurise the regulator.
He also attacked statements made by MP Frank Field, calling them "untrue, totally inaccurate and unhelpful".
Sir Philip said: "I would like to apologise sincerely to all the BHS people involved in this sorry affair."
He was responding to press articles suggesting he had been putting pressure on the Pensions Regulator by saying he would help plug the BHS pensions gap if it dropped an investigation into the retail chain's collapse.
He also reacted angrily to statements in the House of Commons on Wednesday by Mr Field, chairman of the Work and Pensions Committee, that Sir Philip was unwilling to reach a pension fund settlement.
"I stated at the [Work and Pensions Select Committee] hearing that it was my intention to try to find a solution, which is a voluntary one, and that is still my aim," he said.
"Contrary to all the coverage I have been working on this issue on a daily basis."
He said that he and his executives, had been co-operating with the Pensions Regulator for some 17 to 18 months.
"Since before the company was sold in March 2015, it was always our intention to find a plan for the BHS pensioners that was better than the Pension Protection Fund and that remains the case today," he said.
The retail tycoon sold BHS for a £1 just over a year before it went bust in April with a pension deficit of £571m.