Wall Street flat ahead of employment data release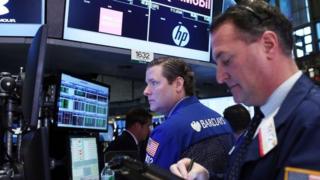 (Closed): US stock markets closed mostly unchanged as investors waited for employment data out Friday.
The Dow Jones rose 18.42 points, or 0.1%, to 18419.30.
The S&P 500 was unchanged, while the Nasdaq climbed 13.99 points to 5227.21.
Friday's jobs figures will provide the latest snapshot of the strength of the US economy, and a strong reading could raise the possibility of the Federal Reserve increasing interest rates later this month.
Energy stocks slid again as oil prices continued their two-week fall.
The price of Brent crude dropped 2.5% to $45.73 a barrel while the US benchmark West Texas crude slipped 2.7% to $43.49.
Among the major oil companies, shares in Exxon Mobil dropped 0.3% while Chevron was down 0.4%.
Poor earnings reports from Costco sent its shares falling 3.6%.
Campbell Soup stock was down following a disappointing earnings report where the company revealed a poor carrot crop cut into sales.
The world's largest soup maker saw its shares fall 6.3%.
Shares of Twitter rose 1.5% following a 4.5% jump on Wednesday as speculation circled that the micro-blogging site might be the target of a takeover plan by a larger tech firm.