Technology weighs on Wall Street after EU ruling on Apple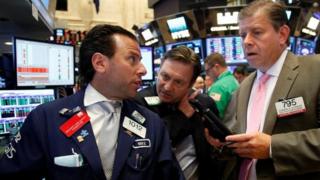 (Closed): US markets closed lower as shares in technology firms and fashion retailers fell.
The Dow Jones dropped 48.69 points, or 0.3%, to 18454.30.
The S&P 500 index was down 4.26 points to 2176.12, while the Nasdaq index slid 9.34 points to 5222.99.
Apple shares fell 0.8% to $106.01 after the European Commission ruled that Ireland should recover up to €13bn ($14.5bn; £11bn) in back taxes from the company.
Both Apple and the Irish government say they will appeal against the ruling.
Shares in other technology firms also fell. Google's parent company Alphabet was down 0.5%. Shares of Microsoft fell 0.4%.
Amazon, which is facing its own EU tax investigation, had a 0.5% dip in its shares.
Shares in confectioner Hershey sank 11% after Mondelez - which owns Cadbury chocolate - said it was no longer interested in buying the company.
US bank shares rose after the Federal Deposit Insurance Corporation said US banks had a 1.4% increase in profit during the second quarter of 2016 compared to the same period last year.
Goldman Sachs gained 1.9% and Morgan Stanley was 2.5% higher.
Teen apparel brand Abercrombie & Fitch saw its shares fall 20% after reporting a fall in sales for the fourteenth quarter in a row.
Analysts are expecting investors to remain cautious this week ahead of the release of US jobs data on Friday.
The jobs figures will give the latest snapshot of the health of the US economy, and a strong set of figures could increase the possibility of a US interest rate rise at the Federal Reserve's September meeting.
US consumer confidence rose to an 11-month high signalling the potential for strong economic growth in the second half of the year.