Mortgage market robust, but subdued, says CML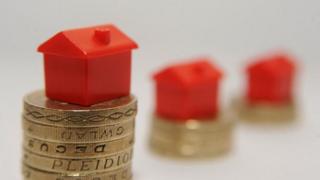 Lenders expect a "robust, but subdued" market for mortgages in the UK after the vote to leave the EU.
Gross mortgage lending edged down to £21.4bn in July - the first full month since the referendum - according to the Council of Mortgage Lenders (CML).
This was 1% lower than the same month last year and almost identical to June, the figures show.
The data pre-dates the move by the Bank of England to cut interest rates to a new record low of 0.25%.
This has led to a reduction in mortgage costs for many thousands of borrowers, and is expected to push down rates for new borrowers.
The figures followed sales data that showed 16,000 fewer homes were sold in July, compared with the same month in 2015.
Surveyors recently reported that housing activity would be flat in the aftermath of the vote, but many now believe that there will be a rebound when considering the outlook in 12 months' time.
"The subdued nature of property transactions and mortgage lending in July are consistent with a less positive backdrop for house purchase activity post-referendum," said CML chief economist Bob Pannell.
---