Pregnant women and mums 'losing out' in workplace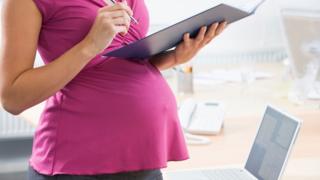 Pregnant women and mums are "losing out" in the workplace from employers who are not playing by the rules, according to Citizens Advice.
It says new mothers are seeing more unfair treatment and that protection against it is "poorly resourced".
Citizens Advice says a major problem for women is knowing how to get any sort of redress when a problem arises.
The agency is calling on the government to create a single body that would enforce all workplace rights.
The study is part of a broader campaign around the problems of insecure work and employment rights.
More women have been turning to Citizens Advice for help on the issue. The agency has seen a 58% increase in the number of new and expecting mothers discussing maternity leave issues in face-to-face interviews in the past two years, from 2,099 in 2013 to 3,307 in 2015.
'Confusing landscape'
One example Citizens Advice gives is Sarah, who worked in a dental practice on a permanent contract for four years.
She had been promoted from receptionist to practice manager, but on returning after nine months maternity leave found that the new responsibilities had been given to another member of staff and she was to return to her receptionist role.
The consumer advice service says part of the problem comes from the increased costs of tribunal fees, which range from £390 to £1,200, and which the agency says should be made easier and cheaper.
This problem also applies to other sorts of workers' rights issues - such as sick pay and contract disputes.
The other problem is knowing which organisation to turn to for help.
"Maternity protections are part of people's employment rights but responsibility for enforcing these is poorly resourced and spread across a wide range of agencies, from HMRC to the Gangmasters and Labour Abuse Authority," said Citizens Advice chief executive Gillian Guy.
"This confusing landscape means some bad bosses are getting away with treating their employees unfairly.
"There is an opportunity for the government to consider bringing together the expertise of all current labour market enforcement functions into one well-resourced effective body to investigate bad practice. This will make it much easier for people to seek redress if they are being denied any of their employment rights."
'Persistent minority'
Citizens Advice is calling for the creation of a Fair Work Authority - a single body that would enforce all workplace rights. This would, for the first time, give workers one clear place to check and report their problems.
Citizens Advice said that most employers aspired to good practice, but that "a persistent minority seek to cut costs by avoiding their obligations".
Employment lawyer Andrea Nicholls says she is often surprised by how little knowledge of the law companies have.
Sometimes the problem arises when a company considers the employee providing maternity cover to be better than the original employee. Companies are not allowed to give the replacement a contract on that basis, but some try to.
The other common situation that causes friction is when a woman has just been hired and then announces she is pregnant, Ms Nicholls says, although the worker is perfectly entitled to do that.
---
Main maternity rights
Maternity leave of up to a year and pay for 39 weeks
Reasonable paid time off for ante-natal appointments (and the ability for partners to accompany you)
Contractual rights should continue during leave, including accrual of holidays and pension contributions
The right to return to the same job if up to 26 weeks' leave is taken, and the right to return to a similar position if more than 26 weeks taken
Protection from redundancy, dismissal, and detriment due to pregnancy/maternity leave
Source: Maternity Action
Young and pregnant - know your work rights
---
Citizens Advice analysed 98 detailed evidence forms submitted by its advisers after they worked on cases where women were struggling to get the pregnancy or maternity rights they were entitled to.
It found that the main issues were women being made redundant, having hours or responsibility reduced, and an unwillingness to introduce health and safety protections for pregnant women.
Ms Nicholls says the most common legal problems she sees from women returning to work from maternity leave are either the role not existing when she returns, or the employee being placed into another role that she feels is not equivalent to the previous one. Ms Nicholls says this applies to all levels of seniority in the workplace.
"I often see cases where a week or two before returning from maternity leave, a manager suddenly starts redundancy proceedings. Then you have to ask yourself: 'Why hasn't this been raised earlier?'".
Her clients often feel very angry and let down. Usually the outcome is a financial settlement because the relationship has broken down to such an extent that the employee does not want to return to work with that company.
---
Are you dealing with unfair treatment at work while pregnant? Are you a new mother losing out at work? Email haveyoursay@bbc.co.uk with your experience.
Please include a contact number if you are willing to speak to a BBC journalist. You can also contact us in the following ways: