Walmart results boost US markets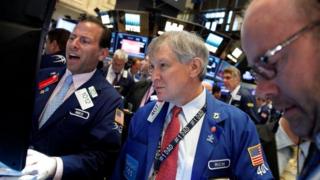 (Closed): US markets closed higher with Wal-Mart shares rising 2% after reporting strong quarterly results.
The retail giant reported an 8.6% rise in profit, better than expected - although its UK arm, Asda, saw a big drop in sales.
The Dow Jones Industrial Average was up 23.76 points to 18,597.70.
The wider S&P 500 rose 4.88 points to 2,183.24, while the tech-focused Nasdaq index was 11.49 points higher at 5,240.15.
Oil-related stocks also climbed. Exxon Mobil shares were up 0.9% and Chevron climbed 1.3%.
Shares of private prison companies fell after the US Department of Justice announced it would phase out the use of those facilities and switch to government run prisons only.
Corrections Corp of America plunged 35.5% and The Geo Group fell 39.6%.
Iconic motorcycle giant Harley-Davidson also slipped on Thursday.
Its shares fell 1.8% after announcing a $15m deal with the Department of Justice to settle allegations that it sold devices for its motorcycles that increased emission levels above legal limits.