Japan's Nikkei rises as yen rally pauses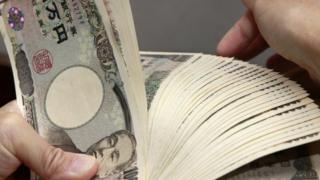 Japanese stocks rose as the dollar fought back against the yen following a US Fed official.
At one point on Tuesday the yen had strengthened to 99.54 per dollar, but the dollar then recovered to 100.77 yen in Asian trade.
The dollar's rebound came after a senior US central bank official indicated borrowing costs could be lifted as early as September.
Japan's benchmark Nikkei 225 index rose 0.9% to close at 16,745.64.
Meanwhile, Chinese stocks were muted after a long-delayed scheme connecting Shenzhen and Hong Kong's stock exchange was approved.
The benchmark Shanghai Composite closed flat at 3,109.55 while in Hong Kong, the Hang Seng index ended trading down 0.5% at 22,799.78.
Shares of Hong Kong-based carrier Cathay Pacific fell nearly 8% after it announced an 82% fall in first-half profit.
However, a standout performer were shares of Shanghai Film Company, which surged by 43% on their trading debut.
In South Korea the Kospi index slipped 0.2% to finish at 2,043.75, while in Australia the ASX 200 index closed flat at 5,535.00.