US stocks edge higher after Fed minutes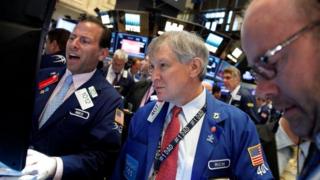 (Close): US markets edged higher on Wednesday after the release of minutes from the Federal Reserve's July meeting.
The minutes said that policy-makers were "keeping their options open" as to when the US central bank might raise rates.
The Dow Jones rose 0.1% to end at 18,573.94.
The wider S&P 500 added 0.2% to 2,182.22, while the tech-focused Nasdaq index was flat at 5,228.66.
"Market expectations for a rate hike in September are still low, and this committee tends to be cautious," said Sara Johnson and Ozlem Yaylaci, economist at IHS Markit.
Shares in the retailer Target fell 6.5% after it cut 2016 profit forecasts because of the "difficult" retail environment.