US stock markets extend record highs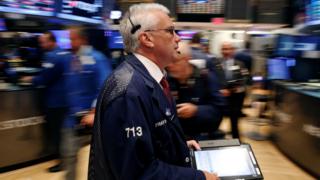 (Closed): Wall Street markets closed higher on Monday, building on last week's record highs.
The Dow Jones was up nearly 60 points, or 0.3%, to 18636.05.
The wider S&P 500 climbed six points, or 0.3%, to 2190.15, while the tech-based Nasdaq jumped 29, or 0.6%, to 5262.02.
Rising oil prices helped to lift investor sentiment as speculation circled that petroleum producers may begin limiting supplies.
The price of crude oil was up 3.2%, as US crude reached $45.89 a barrel and Brent crude surged to $48.48.
Monday was the second time in three trading sessions that the top US equity indices hit record highs.
On the Dow, Goldman Sachs was the big winner rising 1.5%.
Supermarket giant Walmart, which reports its quarterly earnings on Friday, saw its share price fall 0.8%.
Meanwhile, investors were waiting for the minutes from the Federal Reserve's July meeting, which will be released on Wednesday. They are hoping for insight on the likelihood of a September rate increase.