Dalian Wanda property shares suspended ahead of delisting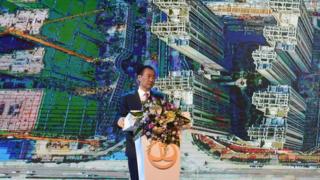 Shares of Dalian Wanda's property unit have been suspended in Hong Kong ahead of an expected delisting.
According to reports, shareholders will vote on a $4.4bn buyout of the developer on Monday and look to re-float the firm in mainland China at a later date.
The company is owned by China's richest man Wang Jianlin.
The Hang Seng index in Hong Kong was up 165.90 points, or 0.7%, to close at 22,932.51 points.
China's Shanghai Composite rose 2.4% to a seven-month high of 3,125.20.
In Japan, shares recovered some of their earlier losses but the benchmark Nikkei 225 index still closed down 0.3% at 16,869.56 following disappointing economic growth data.
However, shares in electronics-maker Sharp jumped by as much as 17% after it said Taiwan's Foxconn had completed its $4bn takeover of the company.
Australia's S&P/ASX 200 index rose 0.2% to close at 5,540.00.
Markets in South Korea and India are closed for a holiday.