US stocks retreat after record highs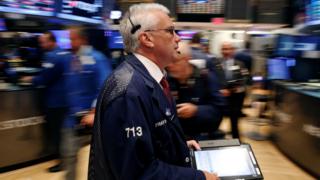 (Open): US share indexes - which had hit record highs on Thursday - retreated on Friday after weak US retail sales and producer pricing data.
The Dow Jones was down 29 points, or 0.16%, to 18584.62.
The wider S&P 500 fell 3.56 points to 2,182.23, while the Nasdaq was 6.59 points lower at 5221.81.
US retail sales in July came in at $457.7bn, flat compared with June, when there had been strong consumer spending.
Winners in early trade in New York on the Dow were Exxon Mobil, Boeing, Procter and Gamble, Coca-Cola and McDonald's.
Major fallers were Goldman Sachs, Nike, JP Morgan Chase, Unitedhealth Group, and E I du Pont Nemours.