Sharp shares rise as China approves Foxconn takeover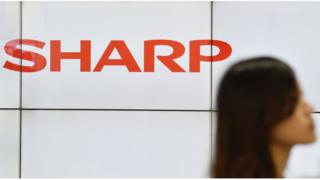 Shares in Sharp have jumped after Chinese regulators agreed a takeover of the Japanese electronics firm by Taiwan's Foxconn.
Sharp rose more than 19% after Foxconn said China's anti-monopoly authorities had approved the deal.
The Nikkei 225 index in Tokyo closed 1.1% higher at 16,919.92, boosted by exporters' shares and a strong performance on US markets.
Wall Street had hit a record high on strong oil and retail stocks.
Elsewhere in Asia, the ASX 200 in Australia also traded higher, up 0.4% to close at 5,530.90.
In Hong Kong, the Hang Seng closed up 0.8% at 22,766.91 points, while the mainland Shanghai Composite jumped 1.6% to close at 3,050.67.
The gains in China came in spite of fresh data adding to a raft of indicators suggesting the world's second largest economy remains in the doldrums.
In South Korea, the benchmark Kospi index wrapped the day flat at 2,050.46 points.