New Zealand dollar jumps after rate cut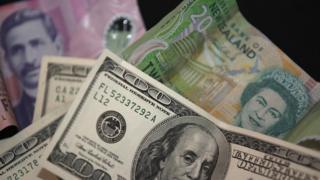 The New Zealand dollar hit its highest level in more than a year after the country's central bank cut interest rates by less than expected.
The Reserve Bank of New Zealand cut its benchmark rate to a record low of 2% from 2.25% to head off deflation risks.
But the Kiwi dollar rose as high as $0.7351 at one point, its highest since May 2015 as some traders had expected a bigger cut.
New Zealand's NZX 50 index edged up 0.1% to 7,353.83.
Most Asian markets traded lower following falls in New York overnight.
In Australia, the ASX 200 finished 0.6% lower at 5,508.01.
In China, the Shanghai Composite fell 0.5% to 3,002.64, but Hong Kong's Hang Seng index rose 0.4% to close at an eight-month high of 22,580.55.
South Korea's Kospi index edged up 0.2% to 2,048.80.
Stock markets in Japan were closed for a public holiday.