Banks and energy drag on US markets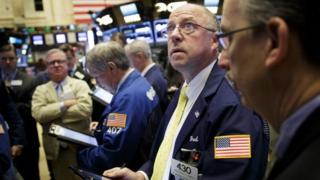 (Close): Wall Street has closed lower as energy and banking shares fell, pushing markets back from record highs set on Tuesday.
The Dow Jones closed down 37.39 points, or 0.2%, at 18495.6, while the S&P 500 slipped 6.2 points, or 0.3%, to 2175.4.
The Nasdaq moved 20.9 points down, or 0.4%, to 5204.5.
Exxon Mobil fell 2.6% and Chevron was down 1.1% after data showed higher petrol stocks in the US.
SunPower shares sank 30% after it reported a second-quarter loss, lowered its full-year revenue forecast and said it would restructure.
Speculation that the Federal Reserve would not raise interest rates in 2016 given current market conditions sent bank shares tumbling.
Bank of America fell 2.5%, while Wells Fargo slipped 1.6% lower and JP Morgan was down 0.9%.
Wendy's shares were 2.8% lower after reporting a slump in same-store sales in the US. The burger chain blamed an increase in the number of people cooking at home for the downturn.
Walt Disney shares climbed 1.2% to $97.86 after the entertainment giant reported results after markets closed on Tuesday.
Yelp jumped 13% to $36.90 following a surprise profit and raising its full-year revenue forecast.
Perrigo shed 9.5% to $86 after reporting lower profits and cutting its profit forecast.