Japanese shares resist negative US trend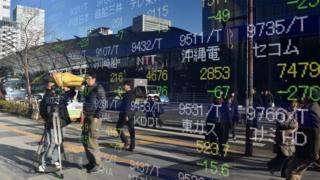 Asian shares mostly moved higher on Tuesday, managing to resist the negative trend set by Wall Street.
US stocks posted losses on Monday setting a weak cue for the Asian open.
However, Japan's Nikkei 225 index rose 0.7% to close at 16,764.97 while Australia's benchmark ASX 200 index closed 0.3% up at 5,552.50.
In China, the mainland Shanghai Composite ended 0.7% higher at 3,025.68 while Hong Kong's Hang Seng fell 0.1% to close at 22,465.61.
Data from China showed the consumer price index (CPI) rose 1.8% in July compared with a year earlier. The producer price index (PPI), which tracks prices at the wholesale level, fell 1.7%.
South Korea's benchmark Kospi index ended the day up 0.6% at 2,043.78