Aberdeen eases property fund restrictions on customers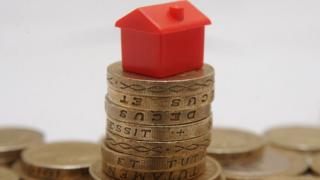 Aberdeen Asset Management has relaxed the penalty imposed on investors who rushed to take their money out of its property fund last month.
Aberdeen initially imposed a 19% levy on customers who wanted to cash in their holdings, following June's Brexit vote.
In all, 10 big property funds faced demands for large withdrawals.
As of July 29 trading in five of them was still suspended, locking in their investors.
They were: Aviva Investment Property Trust, Henderson UK Property Trust, M&G Property Portfolio, Standard Life UK Real Estate and Threadneedle UK Property Trust.
'Buying activity'
Aberdeen's exit penalty is now back at its pre-referendum level of 1.25%.
On Friday the company said it no longer needed to sell any of its properties quickly, to meet the high level of demand for redemptions by customers who had been scared that the value of UK properties might fall following the Brexit vote.
Aberdeen's chief executive, Martin Gilbert, said: "While property values have fallen following the UK's vote to leave the EU, investors do now appear to be taking a more measured assessment of property as a long term investment."
"Indeed we are seeing some signs of buying activity in light of recent market moves," he added.
At one point last month all withdrawals from the Aberdeen fund were frozen for three days to help stave off the rush for redemptions.
That freeze was then lifted and a few days later the withdrawal levy was reduced from 19% to 7% as the situation eased.
'Lucky dip'
Laith Khalaf, of investment firm Hargreaves Lansdown, said: "This reduction in Aberdeen's dilution levy hopefully shows things are getting back to some measure of normality in the UK property fund sector."
"While things appear to be calming down for property funds, dilution levies are entirely dependent on fund flows and applied without prior notice, so investors are still playing lucky dip when they buy or sell one of these funds at the moment," he explained.
The value of the Aberdeen fund stands at £2.7bn but the value of its underlying properties are estimated to be 7% lower than their pre-Brexit level.