Saatchi boss row: Women want top jobs, says female executive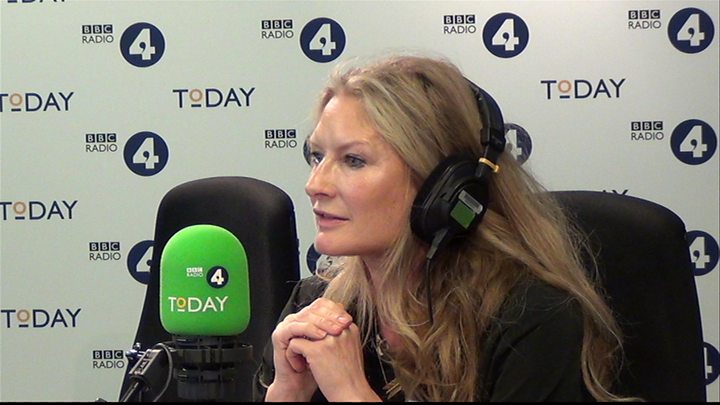 Women "do want the top jobs" in leading advertising firms, a senior female executive at Saatchi and Saatchi says.
Kate Stanners, global chief creative officer, said despite this, the lack of female leaders was an "industry-wide problem" and women needed greater encouragement and more role models.
It comes after agency chairman Kevin Roberts was put on leave for suggesting women did not want senior roles.
He said many women - and men - simply wanted to be happy and "do great work".
'Different roles'
Speaking on BBC Radio 4's Today programme, Ms Stanners rejected the suggestion that women lacked ambition - saying Mr Roberts's comments had upset a "huge" number of employees.
She said women "don't bail out, and do want the top jobs".
The most important thing was "encouraging women to be more vocal and more high-profile, so younger women and women coming through the ranks can see it is possible and there is no reason why they can't take those jobs", she added.
She said there were problems across the advertising industry with women attaining senior positions - but the situation was getting better only because leading women were acting as role models.
Ms Stanners stressed that more needed to be done, adding: "A lot of things you need to do to encourage women into those roles, maybe, are more proactive - things around childcare...
"I think people have to work to make it an environment that encourages women."
Statistics compiled by the Institute of Practitioners in Advertising (IPA) and published in January suggested women held around 32% of senior management positions at Saatchi and Saatchi.
It also found that in the advertising industry as a whole, an average of 30.5% of senior executives were female.
The IPA has campaigned for advertising agencies to employ women in at least 40% of senior management roles.
'Circular ambition'
In the interview with Business Insider, published on Friday, Mr Roberts said the "debate is all over" about gender diversity in the advertising industry.
He said Saatchi and Saatchi had a number of talented women who "reach a certain point in their careers" and that in two out of three occasions rejected the chance to become creative directors.
He added: "They are going: 'Actually guys, you're missing the point, you don't understand: I'm way happier than you.' Their ambition is not a vertical ambition, it's this intrinsic, circular ambition to be happy."
Mr Roberts was placed on a period of leave by parent group Publicis, which said promoting gender equality "starts at the top" and it would not tolerate anyone "who does not value the importance of inclusion".
Publicis chief executive Maurice Levy said the group's board will decide whether to take further action.
He added: "While fostering a work environment that is inclusive of all talent is a collective responsibility, it is leadership's job to nurture the career aspirations and goals of all our talent.
"Promoting gender equality starts at the top and the group will not tolerate anyone speaking for our organisation who does not value the importance of inclusion."
Hannah Peaker, chief of staff for the Women's Equality Party, said the case highlighted a "structural inequality" in Britain, saying the cost of childcare was the biggest cause of gender inequality.
Her party estimated that the pay gap between men and women in London alone was £70bn a year.
She said if the government introduced affordable childcare for families, thousands of jobs would be created and billions of pounds put in to the UK's economy.
"Closing the [funding] gap between the end of parental leave pay, and when free childcare kicks in - when a child is three years old - would be the single most transformational thing that the government could do," she added.
Meanwhile, a study has suggested the proportion of women high earners in business has remained static for the past five years - even though the total number of higher rate taxpayers has increased by more than one million.
Women accounted for just over a quarter of higher rate taxpayers, law firm Clyde & Co said.
---
Are you a woman aiming for the top job? Are you happy in your role? What are your views on the comments made by Kate Stanners and Kevin Roberts? Email haveyoursay@bbc.co.uk with your stories.
Please include a contact number if you are willing to speak to a BBC journalist. You can also contact us in the following ways:
WhatsApp: +44 7525 900971
Tweet: @BBC_HaveYourSay
Send an SMS or MMS to 61124 or +44 7624 800 100