Sir Philip Green left BHS on 'life support', MPs find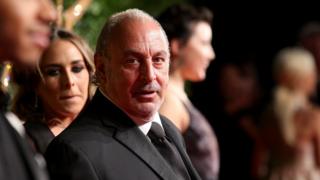 Sir Philip Green and others who "got rich" from BHS have been blamed for the retailer's collapse in what MPs called the "unacceptable face of capitalism".
A damning MPs' report found Sir Philip, the billionaire former owner of BHS, extracted large sums and left the business on "life support".
His failure to resolve BHS's £571m pension deficit was a major factor in the firm's demise, the report added.
Sir Philip vowed to MPs last month that he would sort out the pensions "mess".
In his June appearance before the Business and the Work and Pensions select committees, he also said he had invested £800m in BHS during his 15-year ownership in an attempt to turn around the struggling business.
Prime Minister Theresa May's spokeswoman called the report's findings "clearly concerning" and said Mrs May had already set out the need to "tackle corporate irresponsibility".
Live: Sir Philip Green under fire
Jack: What price a knighthood?
BHS exposes 'challenge' of our pensions
Sir Philip Green: From 'king of the High Street' to 'unacceptable face of capitalism'
The Prime Minister's spokeswoman added there was a need to "reform capitalism to make sure it works for everyone not just the privileged few."
There has been no response so far to the report from Sir Philip, whose retail empire includes Topshop and Dorothy Perkins.
'Retribution and justice'
MP Frank Field, co-chair of the BHS inquiry carried out by the committees, said Sir Philip should write a cheque for "at least" £571m for the BHS pensioners.
Mr Field, the chairman of the Work and Pensions committee, said "one person, and one person alone is ultimately responsible for the BHS disaster".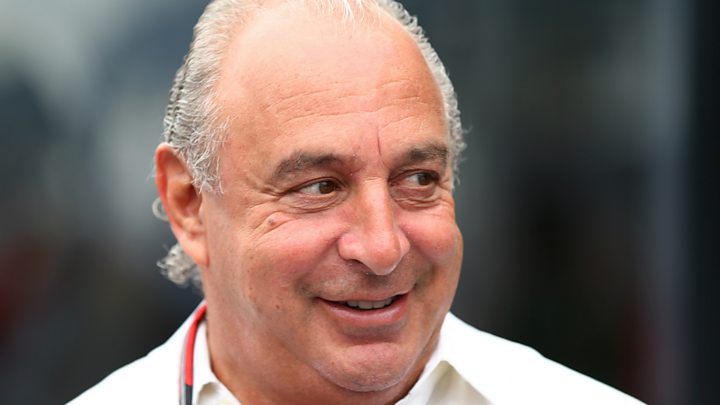 Sir Philip was "the Napoleon figure who orchestrated all this" and should suffer punishment "way beyond losing his knighthood", the Labour MP told the BBC.
The Prime Minister should seek "retribution and justice" over Sir Philip Green's "plundering" of BHS, he added.
The report, from the Business, Innovation and Skills and Work and Pensions committees, comes just days after it was revealed Sir Philip's knighthood is being kept "under review".
The entrepreneur has repeatedly clashed with Mr Field, accusing him of conducting a "trial by media".
'Magic number'
John Ralfe, a pensions adviser for the MPs' report, said there were two amounts that Sir Philip could contribute to the BHS pension fund.
"The first, lower magic number, is £275m. That's the loss that the Pension Protection Fund will take," Mr Ralfe told the BBC.
The second is paying off the total £571m deficit, but "even for Sir Philip, as a billionaire, that's a lot of money", Mr Ralfe said.
BHS is in the process of closing down after what the MP report called the "shambolic" ownership of Dominic Chappell, who bought the retail chain from Sir Philip for £1 last year.
BHS was "hurriedly sold to a manifestly unsuitable" buyer in that deal, even though Sir Philip knew Mr Chappell was a former bankrupt with no retail experience, the MPs found.
The sale went unchallenged because Sir Philip ran his retail empire as "a personal fiefdom", they said.
The MPs' three-month inquiry, which interviewed dozens of executives, found that a "large proportion of those who have got rich or richer off the back of BHS are to blame" for its collapse.
"Sir Philip Green, Dominic Chappell and their respective directors, advisers and hangers-on are all culpable," the report found.
US bank Goldman Sachs, UK law firm Olswang and accountancy firm Grant Thornton were also criticised for their roles in the sale of BHS to Mr Chappell in March 2015.
Mr Chappell, meanwhile, was branded "out of his depth" and "over-optimistic to the point of arrogance", while also taking out "lavish" rewards from the company.
"The tragedy is that those who have lost out are the ordinary employees and pensioners," the report said. "This is the unacceptable face of capitalism."
It added: "The reputation of business, the engine of prosperity, has been damaged, to the dismay of responsible investors, owners and business leaders."
---
Analysis
By Dominic O'Connell, BBC Today Programme business presenter
As Sir Philip Green sits on his yacht ruminating over his grilling by two select committees, one thought will be running through his mind - betrayal.
According to those close to him, Sir Philip feels he has been unfairly singled out over the collapse of BHS - poorly treated by the committees, the professional firms that advised him, the politicians that once sought his company and, in particular, the financial media.
Sir Philip thinks the accusations that he and his family profited while pensioners suffered are wrong, but he does admit to one big mistake. By choosing Dominic Chappell, a serial bankrupt with no retail experience, and as the select committee report confirms, no capital, the tycoon chose, in his words, "the wrong jockey".
So far, Sir Philip has chosen not to respond to the report's withering criticism. He is unlikely to stay silent forever. In the medium term, he faces a more pressing question - what to do to make good his promise to "sort" the BHS pension.
In the past, he has privately expressed his willingness to make some kind of financial contribution, but is understood to be reluctant to make a payment direct to the Pension Protection Fund (PPF), the lifeboat scheme that is now preparing to take the BHS scheme on board.
A payment to the PPF would benefit its coffers, but not lead to improved benefits for BHS pension members.
---
'Heartfelt affection'
The Green family extracted more than £300m from BHS, enabling them to accrue "incredible wealth" and with either "inadequate" or "ineffective" investment pumped back into the business, according to the report.
"By 2014, BHS was left on life support, having drawn on all its accumulated reserves and more as a result of large dividends and heavy losses," it found.
The retail tycoon also gave "insufficient priority" to the pension scheme over an extended period, leaving 20,000 pensioners now facing substantial cuts to their contributions.
"Sir Philip owes it to the BHS pensioners to find a resolution urgently," the report said. "We still do not doubt that Sir Philip has heartfelt affection for BHS. To an extent it created him; it could also bring him down."
Mr Chappell, chief executive of Retail Acquisitions, said: "It's a lengthy document and we need to go through and will respond accordingly."
A Goldman Sachs spokesman said the report recognised it had identified risks to Sir Philip's Arcadia group from selling the business to Mr Chappell but did not provide advice or recommendations.
---
Are you a BHS employee? Are you concerned about your pension? Have you started looking for new work? Email your story to haveyoursay@bbc.co.uk.
You can also contact us in the following ways: