Financial markets have 'weathered' Brexit uncertainty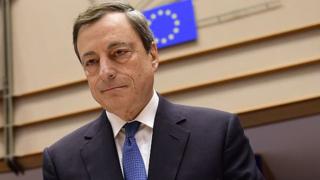 Europe's financial markets have "weathered" the uncertainty caused by Britain's vote to leave the EU, according to the president of the European Central Bank (ECB).
Mario Draghi said markets had displayed "courage and resilience".
In its first rate meeting since Brexit, the ECB voted to leave key interest rates unchanged.
But Mr Draghi signalled the ECB was ready, willing and able to act to boost Europe's economy if needed.
The main interest rate has been held at 0% and the ECB said it expected rates to remain at record lows or fall to lower levels for an extended period of time.
The bank deposit rate was also maintained at minus 0.4%. A negative rate means banks must pay the ECB to park their cash and is designed to encourage them to lend.
The ECB's stimulus programme, where it buys €80bn of bonds a month, has also been left unchanged and will run until March 2017 and beyond "if necessary".
'Grain of caution'
"Over the coming months when we have more information... we will be in a better position to reassess the underlying macroeconomic conditions," Mr Draghi added.
"If warranted, to achieve its objective, the governing council will act by using all the instruments available in its mandate," he said.
Prior to the vote to leave the EU, Mr Draghi had speculated that an exit could cut eurozone growth by between 0.2% and 0.5% over three years. The European Commission had predicted an impact of between 0.25% and 0.5%.
However, on Thursday he said that the forecasts should be treated with a "grain of caution" because it will depend on negotiations between Britain and the EU and the outcome of those talks.
Mr Draghi said that he expected inflation expected to remain low in the coming months - it was 0.1% in June - before picking up later this year.
Howard Archer, chief European and UK economist at IHS Global Insight, said: "The ECB seems relatively relaxed over the initial impact from Brexit and currently expects the eurozone economic recovery "to proceed at a moderate pace" led by domestic demand.
"However, the UK referendum result is seen as one factor meaning that the risks to the growth outlook are tilted to the downside."