National Grid chair approached to oversee Trident programme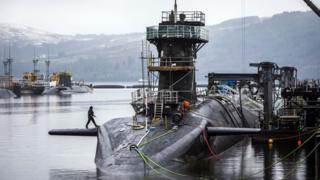 The chairman of National Grid, Sir Peter Gershon, has been approached to take control of the programme to build new nuclear submarines to replace the Trident fleet.
MPs voted overwhelmingly two days ago to renew Britain's nuclear submarines and missiles, which have carried the nuclear deterrent since the late 1960s.
The project will be one of the largest and most expensive ever taken on by the government in peace time; the new submarines alone will cost about £40bn to build, and an analysis by Reuters suggested that over their operating life the vessels will cost the taxpayer at least £130bn.
Senior officials at the Ministry of Defence, the Cabinet Office and the Major Projects Agency have been examining how best to oversee the giant scheme.
Britain's submarines are built by BAE Systems - which owns and operates the UK's only submarine construction yard, at Barrow-in-Furness - and the reactors that power them are made by Rolls-Royce.
But the current submarine programme, to build a fleet of "hunter-killer" Astute-class boats, has proved problematic. The Astute vessels have been dogged by cost-overruns and delays, and mechanical problems in service.
Defence industry sources say Whitehall has considered a radical approach, such as appointing an independent project manager to oversee BAE Systems and Rolls-Royce.
The final approach has yet to be determined, the sources said, but it was likely to either be a new agency, or a collaborative partnership between all the contractors and government, with independent oversight included.
Sir Peter has received informal approaches to see if he would be interested in chairing such a partnership. It is understood he has been non-committal and is likely only to consider such a role properly once the final contract structure is determined.
As well as his chairmanship of National Grid, Sir Peter, 69, is chairman of Tate & Lyle, the FTSE 250 food maker.