London's FTSE closes down as airline shares dip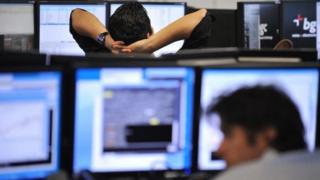 (Close): London's main share index closed down on Thursday, led by a fall in Easyjet shares.
The FTSE 100 index was down by 29 points or 0.43% at 6,699.89.
Easyjet shares were down by 5.32% after a weak third quarter earnings report, which showed that it was earning less from each passenger it carried.
Chief executive Carolyn McCall also told the BBC that the slump in sterling had cost the airline £40m.
British Airways owner IAG, also fell by 3.6%.
"The airline sector looks set for a pretty unpleasant ride in the short term, and investors might want to fasten their seat belts, because there could be turbulence ahead," Nicholas Hyett, equity analyst at Hargreaves Lansdown, said.
"The industry has been increasing capacity for some time and that is starting to have an effect on pricing, squeezing revenue per seat," he added.
"Until now Easyjet has been coping well, with rising passenger numbers offsetting lower revenues per seat. Capacity growth is continuing but the scale of yield declines is nonetheless starting to hit revenues."
On the upside
However, the FTSE 100 is 5.6% than the low point it reached in the aftermath of the Brexit vote last month.
Shares in the rental equipment firm Ashtead rose to one-year high, up 5%, after its US rival, United Rentals, reported positive earnings overnight.
On the currency markets, the pound was scarcely changed against the dollar at $1.3211.
Against the euro, it edged up by just 0.05% to €1.2002.