Eurotunnel cuts profit forecast due to weak pound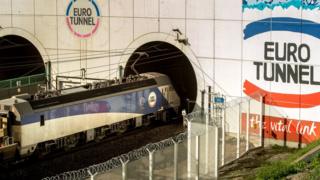 The fall in the pound after the UK referendum on EU membership has forced Eurotunnel to lower its 2016 profit forecast by 4.5% to €535m ($700m).
It also cut its profit forecast for 2017 by 4.3%.
Eurotunnel assumes the pound will be 7% lower versus the euro, reducing its profits when converted back into euros.
Two thirds of its income is from vehicle shuttle services, and UK customers make up 80% of its car passengers.
Shares in Eurotunnel, which runs train services between Britain and France, fell 30% after the EU referendum vote and are still 16% below pre-Brexit levels.
The firm said the impact of Brexit on the level of cross-Channel transport was uncertain, but that it did not expect any significant impact on its activities in the short term.
Chief Executive Jacques Gounon said: "Despite the financial market uncertainty generated by the United Kingdom voting to leave the European Union, the Group remains confident in the performance of its economic model and in its outlook."
However, other factors have had an impact on its business. Eurostar's passenger traffic fell 3% in the first half of 2016 due to attacks in Brussels in March and rail strikes in Belgium and France.
Meanwhile truck shuttle traffic was up 10% in the same period. Overall profits in the first half of the year rose 4% to €249m, with revenues up 2% at €582m.