Pokemon Go: McDonald's Japan shares rise on tie-up reports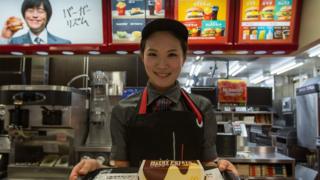 McDonald's Japan shares have jumped as media reports suggest Nintendo's Pokemon Go will be launched there in a deal with the fast food chain.
The hugely successful smartphone game is available in the US and many other countries, but not in Japan yet.
McDonald's Japan jumped to finish 9.8% higher, but Nintendo closed 12.6% down.
The gaming company's shares had soared in the past week, more than doubling its market value, on the success of Pokemon Go.
Both The Wall Street Journal and industry website TechCrunch cited unnamed sources saying that the game will be launched in a tie-up with the fast food company, though the actual release date remains unclear.
The cooperation between Nintendo and McDonald's would reportedly make the fast food restaurants sponsored locations which can be turned into "Pokestops" or "gyms" - locations where players can battle against other players or find new Pokemon monsters.
Any such deal would be likely to drive extra traffic to McDonald's outlets, setting a model for similar sponsored locations in other markets as well.
Tokyo's Nikkei 225 fell 0.3% to close at 16,681.89.
Elsewhere in Asia, South Korea's Kospi finished flat at 2,015.46, while Australia's ASX/200 ended the day 0.7% higher at 5,488.70.
Commodity giants were among the big losers of the day, with Rio Tinto losing more than 2% while BHP was down more than 4%.
In Greater China, Hong Kong's Hang Seng ended the session 1% higher at 21,882.48 while the Shanghai Composite lost 0.3% to close at 3,027.90 points.