Royal Mail revenues rise 1% in 'quieter period'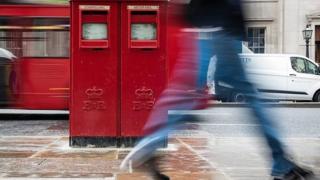 Royal Mail has reported a rise in parcel volumes of 2% in the three months to the end of June although letter volumes were 2% lower.
Group revenue rose 1% in what chief executive Moya Greene said was "traditionally a quieter period" for Royal Mail.
She added Royal Mail continued to "face challenges" caused by high levels of competition and low inflation.
The company's UK business reported a 1% fall in revenue.
But that was offset by 13% growth in revenue and volumes in its European parcels network, GLS.
Ms Greene said: "We continue to face the challenges caused by the current low inflationary environment and our highly competitive markets.
"We remain, however, very focussed on operational and financial efficiency and delivering a high quality service for all our customers."
Letter volumes were flattered by delivery volumes in the previous quarter and mail associated with the European referendum.
Had that not been the case, letter volumes would have been 4% lower.
Royal Mail said overall trading in the first quarter was in line with expectations, with no material change in overall trends.
But it said it was monitoring movements in the wider UK economy as this impacted its business and, in particular, parcel volumes.
Royal Mail has in recent years become increasingly reliant on the shopping habits of UK consumers, more of whom have moved to online retailers.