Bank of America second quarter profits fall 19%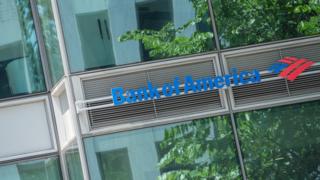 Bank of America reported a 19% slide in profit in the second quarter, as persistently low interest rates hurt the bank's loan business.
The bank made just $3.89bn (£2.93bn) in profit during the period between April and June, down from $4.8bn last year.
The results still beat analysts expectations, and Bank of America's shares rose 1.8%.
Profits across US banks have been hit by the Federal Reserve's low interest rate policy.
"We had another solid quarter in a challenging environment," said chief executive Brian Moynihan.
Bank of America opted to take a $1bn charge, in anticipation of customers refinancing their mortgages in the ultra-low interest rate environment.
The bright spot for Bank of America was its trading revenue, which rose sharply following the UK's vote to leave the European Union.
Revenue from the global trading division climbed 12% to $3.8bn for the quarter.
The bank also continued its strategy of cutting employee and branch numbers as a way to reduce costs. The number of staff fell by approximately 6,000, and the number of bank branches fell by 108.
Mr Moynihan said expenses were down 3%, to levels not reached since 2008.