US bank buys new office block in London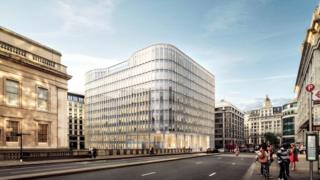 Wells Fargo, one of the biggest banks in the US, has agreed to buy an office block in the City of London.
It is buying an 11-storey block at 33 Central, King William Street, close to the Bank of England and the River Thames.
The financial terms weren't disclosed but Reuters quoted sources close to the deal as valuing it at around £300m.
There have been concerns that the banking industry would leave London post-Brexit.
Many US banks use London as their headquarters for selling services across the single market.
"Many have doubted what will happen to the real estate market after the Brexit vote," Marian Herman, chief financial officer of the property developer HB Reavis Group, said in a statement.
He added that the deal showed the resilience of the market.
The company added that it was "one of the largest single office deals in the City of London market this year".
The building is expected to be finished by September next year, with Wells Fargo planning to begin moving in to the new location in 2018. It currently has 850 employees across London.
"With this new building in London, we are able to bring our team members together in one location in order to more efficiently and effectively manage our operations," said Frank Pizzo, Wells Fargo regional president for Europe Middle East & Africa (EMEA).